Serving Industry Since 1971 - Partnered with Sullair Since 1978
Read More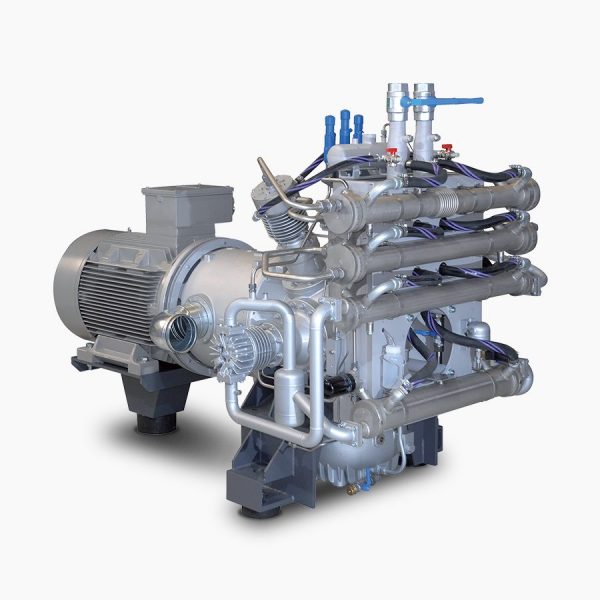 BAUER BOOSTERS
1 and 2 stage boosters for air and nitrogen available in three different models.
The new Vertical Booster series from the technology leader in high pressure offers space-saving designs suitable for the most demanding requirements.
Open models offer a budget conscious practical solution while enclosed models can be installed in occupied spaces.
Both styles include a full-featured control system for unattended automatic operation.The vertical series offers the perfect continuous-duty rated solutions for a wide variety of applications.
When special applications demand extreme reliability, our water-cooled industrial unit range comes into its own. Large-dimensioned bearings and the sophisticated water cooling, in combination with the intelligently designed dry sump lubrication, minimize thermal stress and wear, for a reliable and trouble-free operation under most difficult ambient conditions.
Elevated Inlet Pressure
350-1000 psi (69-483 bar)
7.5-240 scfm (212-6800 1/min)
5-150 hp (3.7-110 kW)

Description
Air-Cooled
Pressure Lubricated
Continuous-Duty Rated
Automatic Condensate Drain
PLC Control for Unattended
Automatic Operation
Open or Enclosed
Designs Available
Available Purification
BK12.3
218-725 psig (15-50 bar) discharge pressure
72-185 (4.8-12.75 bar) psig inlet pressure
18-70 scfm (510-1982 l/min)
5-10 HP (3.7-7.5 kW)
BK12.2
1300-5000 psig (90-345 bar) discharge pressure
72-160 psig (4.8-11) inlet pressure
4.7-17.1 scfm (113-485 l/min)
5-7.5 HP (3.7-5.5 kW)
BK15.3
1300-5000 psig (90-345 bar) discharge pressure
100-145 psig (7-10 bar) inlet pressure
14-26.5 scfm (396-750 l/min)
7.5-15 HP (5.5-11 kW)
Energy-efficient compressor systems for air and gases
Water-cooled
Pressure-resistant crankcases
For air, nitrogen, rare gases, and CNG
Scope of Supply available upon request

Specifications
DIMENSIONS L x W x H inches (mm)
VERTECON
45 x 32.5 x 55 (1143 x 826 x 1397)
MINI VERTICUS
49.5 x 29.5 x 58 (1257 x 749 x 1473)
MAXI VERTICUS
52 x 34 x 65.5 (1321 x 864 x 1664)
WEIGHT pounds (kg)
VERTECON
550-660 (250-300)
MINI VERTICUS
880-950 (400-432)
MAXI VERTICUS
1100-1225 (500-556)
INTERESTED IN THIS PRODUCT?
Get In Touch
For any general questions about our products or services, please fill out the form below and we will get back to you as soon as possible.