Applied System Technology Aluminum Piping System:
Blake & Pendleton utilizes Applied System Technologies Infinity and Elevation Compressed Air and Gas piping systems for professional, reliable installations. Applied System Technologies is known for their long history of producing high quality products with an unbeatable lifetime warranty on all pipe and fittings for the Infinity™ and Elevation™ compressed air product lines.
Infinity™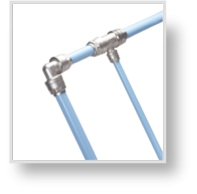 20 mm to 63 mm (3/4" to 2-1/2")
Infinity's powder-coated aluminum pipes are so light weight they can be installed by one person.
Revolutionary lock-and-seal design ensures a totally safe, leak-free system for all compressed air, vacuum and inert gas applications.
Leak-Free connectors provide an immediate, unbreakable seal.
Corrosion resistant, Marine Grade Aluminum
No welding, gluing or threading: a simple pipe cutter and de-burring tool are all you need.
Elevation™
For Large Volume Compressed Air Users
73 mm to 273 mm (2-1/2" to 10")
Corrosion resistant, marine-grade aluminum
Lightest product on the market
Leak-free means energy savings
High volume flow performance through smooth bore tube
Fully tested and code approved