Blake & Pendleton remains open 24/7 and will continue to supply and service the industries critical to getting our nation through the Covid-19 crisis.
Read More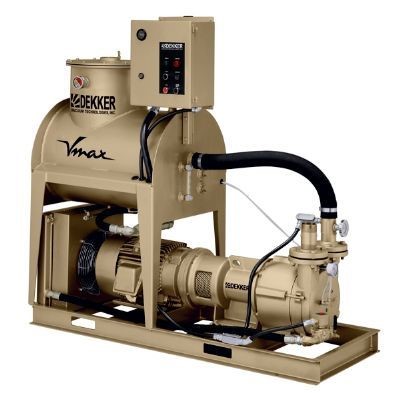 DEKKER VMAX OIL-SEALED LIQUID RING VACUUM PUMPS
The Vmax system offered by Dekker Vacuum Technologies is the result of years of experience in the design, manufacture, operation, and application of the oil-sealed liquid ring vacuum pump system concept.
Complete closed loop system
Easy installation, plug and play
Optional Variable Speed Drive
Quiet operation

Features
35 ACFM to 5,400 ACFM.
Applications in Every Industrial Segment
Water Sealing is Eliminated – Fast ROI
Simple, Compact Design, Small Footprint
Intelligent Electronic Controls
Energy Efficient Design
Variable Speed Drive Option
3-Year Package Warranty – Best in Industry
10,000-hour Vmaxol Factory Fill Lubricant
DX-5 and DX-7 Air/Oil Separator Elements
Quiet Operation – As Low as 70 dBA
Options include: Specialty Inlet Filters, Multiple Pump Controls/Automation and Application Specific Accessories.
INTERESTED IN THIS PRODUCT?